Technology Services will release a new security feature that uses a verification PIN to confirm the user's identity on Monday, Jan. 13.
The verification PIN is printed on the back of your Florida Poly ID card. Look for a five-digit number at the bottom following an asterisk: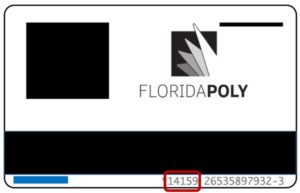 Keeping your account secure is our highest priority. If your ID card is lost or stolen, please report it immediately.
Please contact the Helpdesk or call 863-874-8888 for more information.