Have you registered to vote? Do you know that you can make a difference?
You will see a voter registration form attached for your review and submission to your appropriate Supervisor of Elections.
If you are interested registering to vote online, please click on the link below and begin the process:
This system can be used to submit an application online for new registration, to make changes to your existing registration record, or to prefill a voter registration application form.
We would like to see all of our students exercise their right to vote in the 2020 Elections and make a difference.
If you have any questions, please refer to Frequently Asked Questions by clicking here.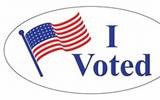 For more information, contact Jimmy Surin  or call 863-874-8724.